· Tech start-ups backed by Legend Holdings, Baidu are among those exploring options regarding special purpose acquisition companies (SPACs), industry insiders say
· Start-ups see SPACs as a way to go public quickly, avoid volatility of traditional IPO
Tech start-ups in mainland China, including those backed by industry titans such as Legend Holdings and Baidu, are exploring options to join what has been one of the hottest capital-raising trends
this year and go public via blank-cheque companies known as SPACs, according to industry players.
SPACs, shorthand for special purpose acquisition companies, are drawing the attention of technology companies because the investment vehicle allows them to go public quickly with less regulatory scrutiny and more certainty over the valuation, tech insiders said. Capital can also be raised without the same level of volatility associated with a traditional initial public offering, they said.
"We are in talks with more than 10 tech companies with businesses from electric vehicle components, e-commerce technology, biotech to media. Many of them are in Beijing's tech hub, Zhongguancun," said Jason Wong, a SPAC sponsor and partner at Whiz Partners Asia, the Asian affiliate of Japan's Whiz Partners.
Some of those firms are subsidiaries or affiliates of big tech companies, including Baidu and Legend, Wong said.
Many of these companies have already raised seed capital from offshore investors, and some investors now want to exit. SPACs provide the ability to exit and reap high-reward investments with limited risk, according to Wong.
They are shell companies that raise money in an IPO without an existing business or a target company attached. Then, the investment vehicle seeks out a private company and merges with it to take it public, generally within two years.
Investors buy into a SPAC, usually based on the reputation of its founders, and hope for the stock to surge once it has eventually found a target.
Baidu said it is not in a position to comment on the strategy of its portfolio companies, while Legend declined to comment.
In March, a SPAC backed by Hony Capital, one of China's biggest private-equity firms, controlled by Legend, said it would seek to raise up to US$300 million and look to merge with technology-enabled companies that have a significant presence in China, mainly in sectors such as health care and consumer products, according to a filing with the US Securities and Exchange Commission (SEC).
So far this year, 350 SPACs have raised US$102 billion, according to financial data provider Refinitiv. Last year, there were 257 blank-cheque companies that raised US$81.2 billion and, in 2019, 97 SPACs raised nearly US$15 billion.The frenzy has drawn the attention of US stocks regulators.
SEC chairman Gary Gensler said on Thursday that the agency is strengthening resources to look into the SPAC boom.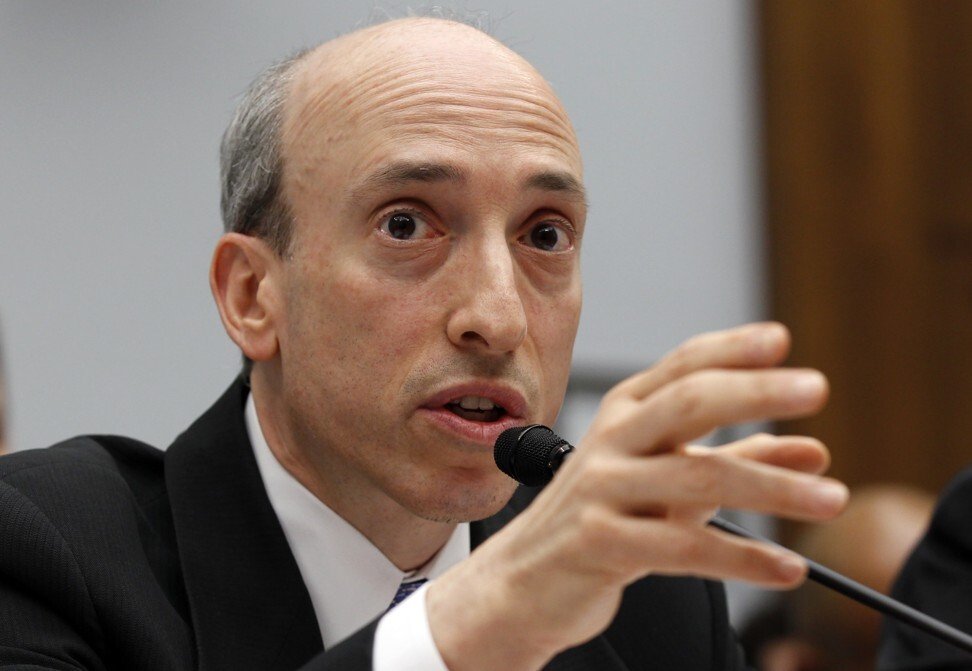 However, mainland tech companies appear to be unfazed by the increased scrutiny of SPACs.
Estella Kuo, secretary of the Zhongguancun Listed Companies Association, said she has noticed a growing interest among members in the blank-cheque companies.The association, which has more than 400 members including listed and unlisted tech companies mostly based in Beijing, organised a forum to discuss SPAC listings on May 12, and members showed strong interests in the listing option, according to Kuo.
"SPAC allows smaller companies to obtain financing channels equivalent to IPOs in advance, and at the same time, it eliminates the need for the cost of IPO and the heavy paperwork. SPAC should undoubtedly be attractive to tech companies in our association," she said.
Chinese domestic companies that intend to list need to build an overseas listing structure in advance.
That can include variable interest entity corporate structures, a legal business structure that makes it easier for offshore investors to share in the profits of mainland companies."SPACs are good choices for companies like our members which have financing needs – they have good businesses but have not yet made profits.," said Kuo.The interest in SPACs does not seem to be diminishing among Asian target companies and investors, deal makers said.
Since 2020, more than a dozen Hong Kong-backed SPACs have listed in the United States, and many more of the blank-cheque companies have been launched one after another, according to Wong of Whiz Partners Asia.As many mainland tech companies show strong interest in merging with listed SPACs, Hong Kong should grab the opportunities and allow SPACs to list on the local exchange, Wong said. The city's bourse and securities regulator are examining potential rule changes to allow the vehicles to list here.Hong Kong can play a role as a bridge in the process of overseas listing of Chinese companies, he said.